Which Countries Can Enter Kenya without Visa?
Kenya has signed visa waiver treaties with several countries, allowing their citizens to visit Kenya without a visa for short stays. However, foreign passport holders who are not from these countries will need to obtain a visa. Depending on their nationality, they may be eligible for a Kenya eVisa, which can be obtained through an online application, eliminating the need to visit a Kenyan embassy or consulate in person.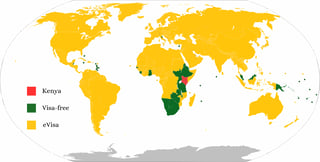 Countries with Visa-Free Entry to Kenya
Currently, Kenya allows visa-free travel for citizens of more than 40 countries. Most of these nationalities can stay in Kenya without a visa for up to 90 days, except for South African and Malaysian passport holders who are limited to a maximum stay of 30 days.
While these foreign citizens do not require a visa, they must possess a valid passport for at least 6 months upon arrival to be granted entry into the country.
However, citizens of Uganda and Rwanda can enter Kenya by simply presenting a valid national ID card.
Furthermore, individuals holding diplomatic or service category passports from specific countries are exempt from obtaining a visa for Kenya.
Brazil
China
Cuba
India (diplomatic passports only)
Israel
Iran
Turkey
However, regular passport holders from these countries are not eligible for visa exemption in Kenya. Fortunately, all nationalities mentioned above can apply for a Kenya visa online.
Countries Exempt from Visa Requirements for Kenya
As of the latest information available, citizens of the following countries who hold ordinary passports can currently travel to Kenya without a visa:
Bahamas
Barbados
Belize
Botswana
Brunei
Burundi
Cyprus
Dominica
Eswatini
Ethiopia
Fiji
Gambia
Ghana
Grenada
Jamaica
Kiribati
Lesotho
Malawi
Malaysia
Maldives
Mauritius
Namibia
Nauru
Papua New Guinea
Rwanda
Samoa
Saint Kitts and Nevis
Saint Lucia
Saint Vincent and the Grenadines
San Marino
Seychelles
Sierra Leone
Singapore
Solomon Islands
South Africa
Tanzania
Tonga
Trinidad and Tobago
Tuvalu
Uganda
Vanuatu
Zambia
Zimbabwe
Furthermore, Kenya has entered into a visa waiver agreement with Mozambique and the United Arab Emirates for holders of ordinary passports. Nevertheless, this agreement has not been implemented yet, and citizens from these nations are still required to obtain a visa to travel to Kenya at the current time.
Visa Requirement for Kenya: Non-Exempt Countries
To enter Kenya for any purpose, travelers who are not eligible for visa-free entry must possess an approved Kenyan visa. Presently, it is mandatory to apply for a Kenyan visa online in advance of travel, as obtaining a visa upon arrival in Kenya is no longer an option.
Kenya eVisa for Non-Visa-Exempt Travelers
In 2015, the Kenyan government implemented the Kenya eVisa system with the aim of simplifying the visa application process for travelers from more than 160 countries across the globe. This online system facilitates the acquisition of a visa for various purposes, including tourism, business, transit, or medical visits to Kenya.
All foreign nationals who are not exempt from obtaining a visa for Kenya must now complete an online Kenya visa application. This requirement was introduced to mitigate the risk of COVID-19 transmission at immigration lines in border areas. Additionally, it eliminates the need for applicants to personally visit an embassy or consulate to apply for a visa.
Upon approval, the Kenya eVisa permits the holder to stay in the country for a maximum of 90 consecutive days. It is a single-entry visa that remains valid for three months from the date of issuance.
Kenya Visa Application Requirements for Non-Visa-Exempt Citizens
To fulfill the online Kenya visa requirements, you must have the following:
A passport that is valid for at least 6 months from the date of your intended arrival, with at least one blank page available.
A confirmed flight ticket indicating either your return or onward travel plans.
Sufficient funds to cover your entire stay in Kenya, which can be proven through bank statements or other relevant financial documents.
Evidence of accommodation in Kenya, such as hotel bookings or any other valid proof.
Once these prerequisites are met, you can proceed to complete the Kenya eVisa form online. The application process is quick and straightforward, involving the provision of basic personal, passport, and travel information.
Additionally, it is important to provide a current email address to receive the approved eVisa. The online payment of the Kenya visa fee is required, and you can use a valid credit or debit card authorized for online transactions.
To ensure a smooth process, it is recommended to submit your Kenya eVisa form at least 7 business days prior to your planned entry date. This allows for sufficient processing time. Upon receiving the approved visa via email, remember to print a copy and present it to the border officials upon your arrival in Kenya.